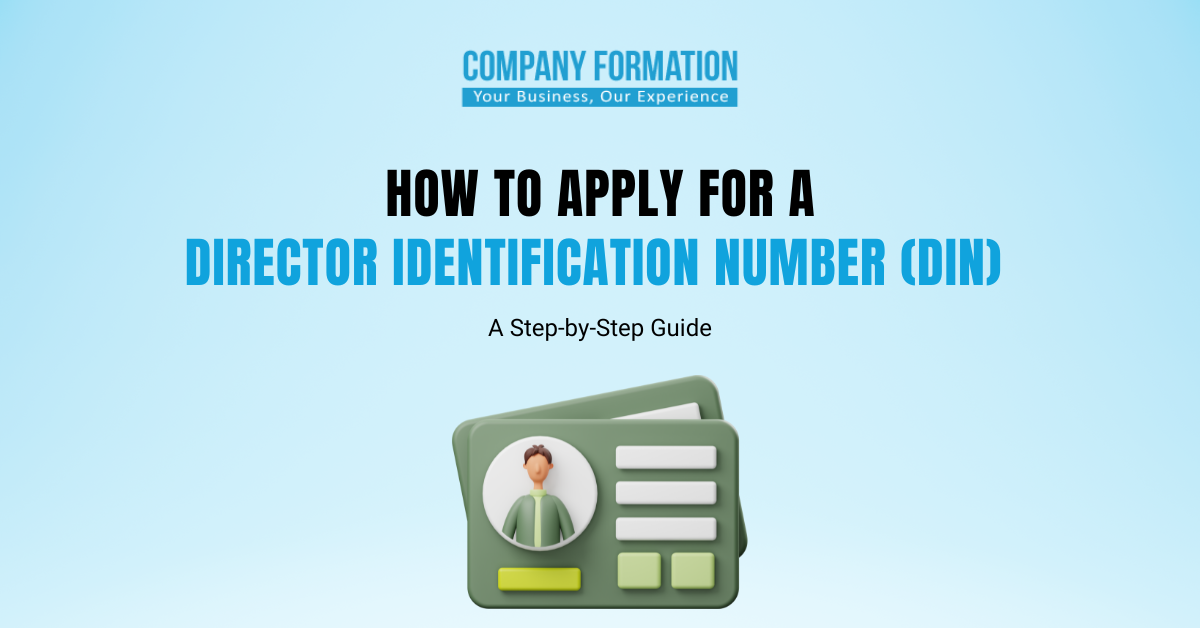 A Step-by-Step Guide: How to Apply for a Director Identification Number (DIN)
Introduction If you aspire to be a company director, obtaining a Director Identification Number (DIN) is a crucial step. A DIN is a unique identification number assigned to individuals who wish to hold a directorship in an Indian company. In this comprehensive guide, we will walk you through the process of applying for a DIN, ensuring a smooth and hassle-free experience.
Step 1: Obtain Digital Signature Certificate (DSC): Before applying for a DIN, you need to acquire a Digital Signature Certificate (DSC). A DSC acts as an electronic signature and is mandatory for filing various documents with the Ministry of Corporate Affairs (MCA). You can obtain a DSC from authorized certifying agencies or through online portals.
Step 2: Visit the MCA Portal To initiate the DIN application process, visit the official website of the Ministry of Corporate Affairs (MCA) at www.mca.gov.in. Look for the "Director Identification Number" section under the "MCA Services" tab and select the appropriate option to apply for a new DIN.
Step 3: Complete the DIN Application Form Fill in the required details in the DIN application form carefully and accurately. You will need to provide personal information such as your full name, date of birth, contact details, educational qualifications, and past directorships, if any. Ensure that the information matches the supporting documents you will be submitting.
Step 4: Attach Supporting Documents As part of the DIN application, you need to submit specific supporting documents. These typically include proof of identity (PAN card, passport, Aadhaar card, etc.), proof of address (voter ID, driving license, utility bills, etc.), and passport-sized photographs. Make sure to have these documents ready in the prescribed format.
Step 5: Pay the Required Fees Once you have filled in the DIN application form and attached the necessary documents, it's time to pay the applicable fees. The fee amount may vary, so check the MCA website for the current charges. You can make the payment online through the MCA portal using various electronic modes.
Step 6: Verification and Processing After submitting the DIN application, it undergoes a verification and processing phase. The MCA reviews the information provided and verifies the attached documents. It is crucial to ensure that all details are accurate and the documents are authentic to avoid any delays or rejection.
Step 7: Track Application Status You can track the status of your DIN application online through the MCA portal. The website provides a dedicated section to check the progress of your application. It is advisable to regularly monitor the status and follow up with the MCA if necessary.
Step 8: Receive DIN Approval Upon successful verification, you will receive an email notification confirming the approval of your DIN application. The email will contain your unique Director Identification Number (DIN). Retain this number as it will be required for future reference and for filing various company-related documents.
Conclusion Acquiring a Director Identification Number (DIN) is a fundamental step for individuals aspiring to hold directorships in Indian companies. By following this step-by-step guide, you can navigate the DIN application process with ease. Remember to gather all the necessary documents, pay the fees, and provide accurate information to ensure a smooth and successful application. Obtaining a DIN will enable you to fulfill your directorial aspirations and contribute to the corporate landscape in India.
For more information Click here