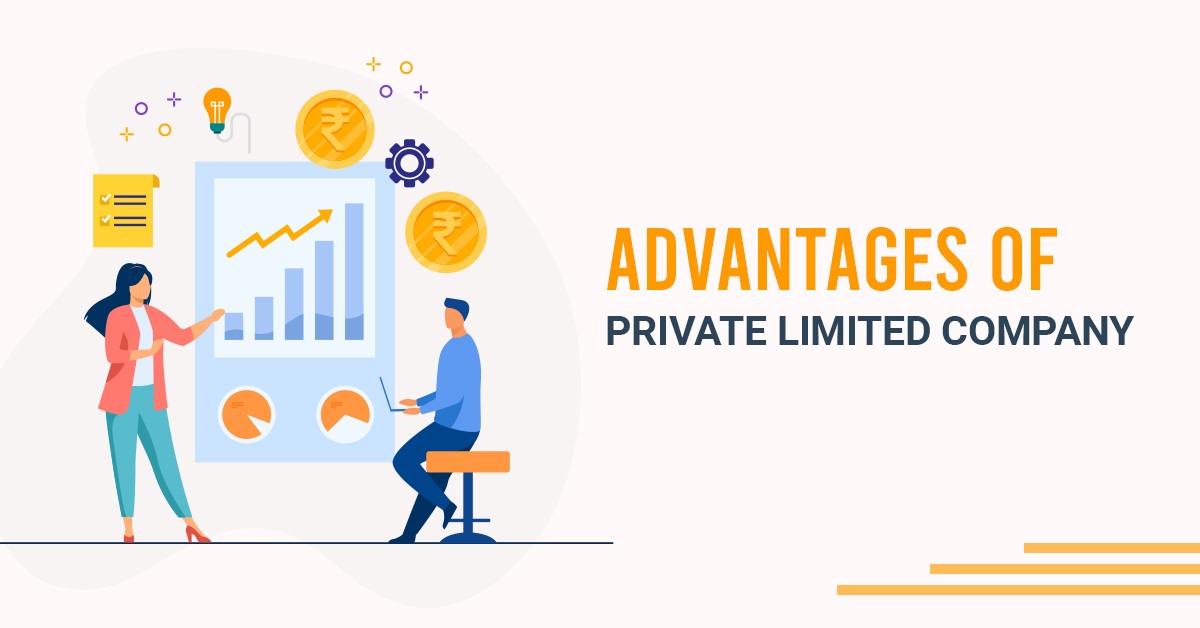 Private Limited Company
A private company is a company which is owned by non-governmental organisations. In any way, relatively small number of shareholders or members of a company. Usually, a private company does not offer its shares to the general public on the stock exchanges, but rather the private stock of the company is owned and traded. A private limited company is a type of organisation you can set up to run your business
A private limited company is a company which is privately held for small businesses. The liability of the members of a Company is limited to the amount of shares respectively held by them. Shares of Private Limited Company cannot be publically traded
Advantages of Private Limited Company

1.No Minimum Capital
No minimum capital is required to form a Private Limited Company. A Private Limited Company can be registered with a sum of Rs. 10 K as total Share capital.
2.Separate Legal Entity

A Private Limited Company is a separate legal identity in the court of the law, meaning assets and liabilities of the business are not the same as the assets and liabilities of the Directors. Both are counted as different
3.Limited Liability
If the company undergoes financial distress because of whatsoever reasons, members will not be used to pay the debts of the Company as the liability of the person is limited. Therefore, where a company is limited by shares, the liability of the members on a winding-up is limited to the amount unpaid on their shares.
4.Long term planning
Managers of public companies are pressurized to increase earnings in the short term in order to increase the value of their stock. Private companies can focus on long-term earnings. Guaranteed succession not only benefits members but secures jobs and resources for the community.
5.Free & Easy transfer of shares
shares are transferable by a shareholder to any other person. The transfer is easy as compared to the transfer of an interest in a business run as a proprietary concern or a partnership. Filing and signing a share transfer form and handing buyer of the shares along with a share certificate can easily transfer shares.
6.FDI Allowed
In a Private Limited Company, 100% Foreign Direct Investment is allowed that means any foreign entity or foreign person can directly invest in a Private Limited Company.
7.Focus of management
Managers of Public companies are focused on increasing the value of shares, whereas the private company members are focused in the short term and long term business decisions. The risk of hostile takeovers is low.
At Company Formation India,we assist our clients in Classification of Companies, Steps to Set Up a Pvt.Ltd.Company,FDI in India, Public Limited Company, ensuring compliance with applicable standards. If you have any questions or wish to know more about Company Formation India.
For more information contact us